The Gap July Grading Results
We have a great deal to report from The Gap since last grading, a new black belt, and some exciting gradings to come.
Gup Grading Results
We had two red belt students grade this time:
Luke Shuley
Blake McFarlane
Both students were applying for 1st Gup. Under our new grading requirements, Luke and Blake perform 1 random poomsae (from T4-T7) in addition to Taeguk 8. They performed well at grading and were promoted from 2nd gup to 1st gup.
All three of our blue belts performed extremely well:
Claire Lin (6th Gup to 5th with Honours)
Henry Liang (4th Gup to 3rd with Honours)
Eli Etherington (4th Gup to 3rd with Honours)
All the hard work Claire, Henry and Eli put in before grading and it really paid off, their performances demonstrated great improvement. We now have two new red belts (Eli and Henry) to right about next time.
We had a massive group of yellow belts grade with outstanding results, including:
Emma Dawson (7th to 6th Gup with Honours)
Michael Castiglione (7th to 6th Gup with Honours)
Gabriel Malfitana (7th to 6th Gup)
Elise Dey (7th to 6th Gup with Honours)
Harry Hind (7th to 6th Gup)
Lee St Clair (8th to 7th Gup with Honours)
Joshua Challen (8th to 7th Gup)
Tehya Inglis (8th to 7th Gup with Honours)
Shourya Singh (8th to 7th Gup)
Aurelius Bodisco (8th to 7th Gup)
Emily Wilson (9th to 8th Gup with Honours)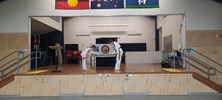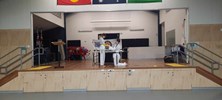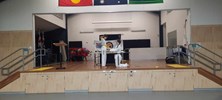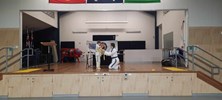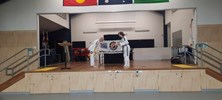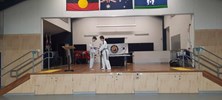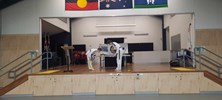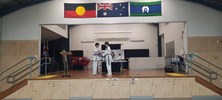 The Gap Welcomes a New Black Belt
In a display of talent and dedication, Roman Castiglione achieved his First Dan Bo in Taekwondo with Honours. His poomsae showcased remarkable precision, while his one-step sparring techniques left opponents astonished. The nail-biting board-breaking was impressive and demonstrated Roman's indomitable spirit. Congratulations to Roman on this momentous achievement, we eagerly await more incredible feats from him as he begins his black belt journey!
Exciting Gradings to Come
As well as an exciting grading performance by Roman, Instructors Nicole, Ben, and Andrew completed their demonstration tests for their next Dans. All three worked hard to perfect their poomsae.
We look forward to watching them grade in November, particularly Instructor Ben who will be grading to 4th Dan (Instructors Nicole and Andrew will grade for their 3rd and 2nd respectively).
Greg also applied and passed his final 1st Gup trial, he has been approved to do his demonstration test in November.
The next few months will be a busy time for The Gap.