Taekwondo - the Way of Hand & Foot Fighting...
Sun Bae Taekwondo Training Basic Elements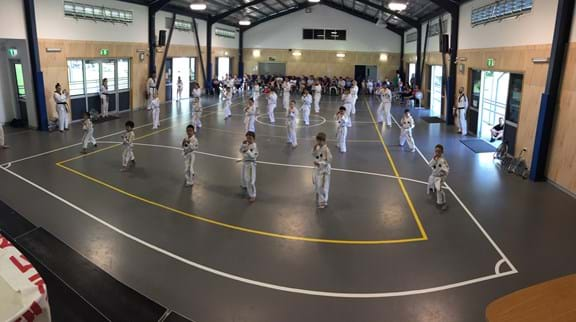 Students can train and grade in Taekwondo which includes:
Stretching and Strengthening.
Footwork & Stances (evasion)
Basics (strikes, punching & blocking)
Boxing (practical defence)
Kicking
One step sparring (practice fighting combos)
Patterns (for co-ordination and harmony)
Self defence (escape from from grabs)
Board breaking (test techniques on timber)
Sparring (controlled non-contact)
Sparring (light contact with protective gear)
Meditation (breathing)
Sun Bae Taekwondo Joining Information
Sun Bae Playlists - YouTube
Grading regularly in Taekwondo provides our students with motivation and identifiable goals to achieve. Upon passing each level, students are awarded a new belt colour, until finally they attain their black belt!
At Sun Bae, a student may apply for three Taekwondo gradings per year. Each grading result is returned with a ranking of Pass, High Pass, or Pass with Honours - rewarding those students who are more dedicated and attend extra classes. It is also possible to double grade.
Skill is graded, but so is a student's martial art etiquette and their good character and behaviour. This is very helpful for young children, shaping their lives positively. And of course with new rank comes new techniques, the learning never ceases! Grading at Sun Bae instils patience and virtue, as well as self-respect.
And what do you have to do in your grading test? Your test merely shows the Grading Examiner what you normally do in class. The first gradings are very simple and easy, progressing in detail as you get higher and higher. You can find the Grading Requirements for each level in our Student Handbook.
Basic Training & Grading Elements (in detail)
STRETCHING & STRENGTHENING
Increased flexibility allows dynamic kicking and harmony.
Build core strength without gym equipment.
FOOTWORK & STANCES
Evade attacks without blocking.
Strategise counter attacks with optimal positioning.
BASICS
Learn to punch, strike and block. There are many variations.
Attain muscle memory, so your techniques become second nature.
BOXING
Learn practical street wise defence with boxing combinations.
Practice on pads an with a partner.
Advanced students can elect to box with protective gear.
KICKING
Defend yourself with the strongest & longest part of your body!
Learn long range and short range kicks.
Learn easy to use basic kicks.
Learn powerful spinning, jumping and flying kicks.
Develop personal combinations that work for you.
ONE STEP SPARRING
Fixed position semi sparring.
Develop control and technique.
Develop combinations that work for you.
Attain distance control awareness.
PATTERNS
An essential part of any martial art - not so much for street practicality, but to acquire:
​muscle memory.
breathing control .
harmony - mind and body.
core strength and conditioning.
understanding how techniques work.
display technical skill for grading tests.
SPARRING
Non-contact. Some light contact at advanced levels.
Develop control & combinations together with muscle memory.
Simulation of fighting an opponent who moves and fights back.
SELF DEFENCE
Learn to escape from grabs and holds.
Learn to apply holds and grabs.
Learn to pin your opponent on the ground.
Apply joint manipulation, arm throws, body throws, trips, holds and pins.
BREAKING - TIMBER BOARDS
Learn distance control with full power techniques.
Challenge yourself with different techniques.
Display technique, distance control, confidence and power at grading test.
Taekwondo Photo Gallery