NEW TAEKWONDO BLACK BELT - Adam!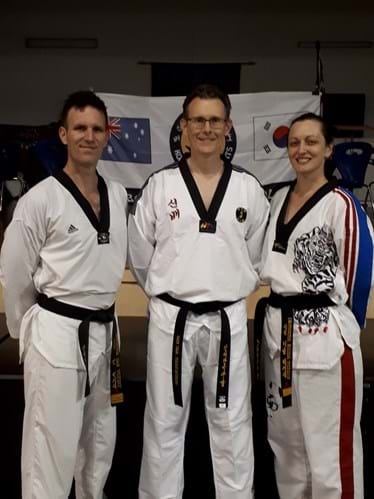 Congratulations Adam! August's Sun Bae Taekwondo grading was an exciting one for The Gap; where we welcomed our brand new Black Belt, Adam Welch. Adam joined Sun Bae in January 2016 with his family of five (Christine, Sam, Jess and Jack) and has trained diligently for the past four years, and needless to say his Instructors are very proud. Check out this short action video from Adam's grading.
Adam graded to Black belt at 50 years of age, and is a testament to what a person can achieve with enormous perseverance and the support of an amazing family. It is never to late to learn Taekwondo! Well done Adam, extremely well earned. We look forward to seeing the rest of Team Welch join you at Black belt.
In addition to Adam's fantastic performance, nine of our Gup students took part in our post COVID-19 grading and were promoted. Well done to Zion, Judah, Finn, Leticia, Abigail, Ruby, Eva, Roman and Lachlan. You can watch an action video of our Gup students here.
---
Click here to find out more...
Come Train with us at The Gap, at Hilder Rd Primary School Hall:
Tuesdays & Thursdays
Tigers (Ages 5-12): 6:00pm - 7:00pm
Mixed: 7:00pm - 8:00pm
---
We think there are many reasons as to why Sun Bae's The Gap centre is special. For one, The Gap has a fantastic family atmosphere; with several families actively training with us.
We have a strong tradition of families families at our centre. Many of our current students are husbands, wives, mums, dads, kids, and siblings all training together. You can meet some of our Gap families in the gallery (left).
Our brother and sister Blackbelt duo, Andrew and Elizabeth, train with their fantastic 1st Gup father Greg.
"My son and daughter have been training at Sun Bae at The Gap for 11 years and 6 years respectively. After watching on for many of those years, I started training with them a few years ago. Individually we each get so much out of the training but the unexpected benefit has been the value to us as a family group doing this together. Would recommend it to anyone."
Review Sun Bae on Google...