JAMBOREE HEIGHTS AT THE
2019 SUN BAE COMPETITION

Incredible effort by everyone and congratulations to the medalists. Jamboree Heights really brought their all this year, getting 50% medals for poomsae with additional medals and amazing performances in high kick and tile breaking.

Despite being the second smallest club at Sun Bae, we made an exceptional effort! as we are also defending champions of the Players Trophy. This year we tied with Toowoomba in first place, which means we both achieved 50% medals in our respective clubs for Poomsae. It's a team effort, well done on everyone participating and doing their best.


Poomsae Medalists
Michael Bliss (1st GUP, Adult Division) - Gold Medal (Club Champion)
Brendan Whish (4th Gup, Adult Division) - Bronze Medal
Riley Jones (5th GUP, Intermediate Division) - Silver Medal
Theo Dionysius (5th GUP, Intermediate Division) - Bronze Medal
Lara Mackenzie (3rd GUP), Adult Division) - Silver Medal
Honourable Mention: Max Jones (5th GUP, Intermediate Division) - 4th place


Tile Breaking Medalists
Lloyd Bowden - Five Tiles (bronze)
Michael Bliss - Five Tiles (bronze)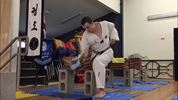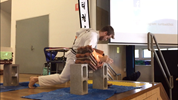 High Kick Medalists
Michael Bliss - 245cm (Silver)
Dan Harth - 240cm (Bronze)