2023 Club Championships - Results
The News!
---
KENMORE wins 2023 Championship trophy with 7 gold on a tiebreaker with 6 silver — by only one medal over Newmarket! Congrats to Master Shirly and the team!
---
REGENTS PARK wins Players Trophy 2023 with 61.54%! Congrats to Master Mark who personally secured the win by one medal on the very last event of the afternoon — tile breaking! Congrats to the team!
---
Hannah Yang 2023 Club Champion!
---
Master Mark Buxton breaks 37 tiles in a 4 stack continuous feat!
---
Damanald Diosi highest kick 265 cm!
Roman Castiglione sets highest kick record of 260cm in Male 156-175 cm division!
---
174 entrants!
Poomsae
Power Breaking
High Kick
+18 black belt officials!
---
PHOTO ALBUM
& VIDEO
INCLUDED BELOW
Report Summary
---
---
The 21st Sun Bae Taekwondo Championships were held at Mt Gravatt, Brisbane, Saturday 30 September 2023. The teams:
Team Newmarket: Master Shirly (defending 2022 champions).
Team Kenmore: Master Shirly (runner up 2022).
Team The Gap: Instructor Nicole
Team Regents Park: Master Mark
Team Toowoomba: Instructor John
Team Middle Park: Instructor Brendan
Team Mt Gravatt: Instructor Ben
Another beautiful day for our event, the weather perfect for all genre of competition. The poomsae (patterns) division operated on 3 courts to host 170 players — all Sun Bae students. Seven teams competed in a knock out style event, ensuring the eventual winner worked hard to get to the end. The largest division this year was Yellow - Junior (under 10) with 25 players.
---
CHAMPIONSHIP TROPHY
It is match play patterns — knockout until a victor is declared. The largest division had five matches to win the division, wih another two matches afterwards to declare the Club Champion — a true test of fitness and mental strength. It can be luck of the draw too, with the possibility of facing the eventual club champion in the first round.
Notably, the Championship is decided upon only the patterns contest, the winning team declared by the highest number of gold medals. Silver and bronze are still utilised, but only in the event of a tie. As it turned out, this is exactly what happened with only one silver deciding the event.
PLAYERS TROPHY
In addition to the Championship Trophy, teams also competed for the Players Trophy - decided upon the best percentage of medals won (gold, sliver, bronze) in all events (patterns, high kick, tile break) versus total team players. It is our profound hope that the Players Trophy might afford smaller teams a stronger chance to compete. This is exactly what happened with Regents Park — fielding only 13 players — taking the Trophy.
CLUB CHAMPION
There were 23 divisions in patterns, split over rank (black, red III, red, blue, yellow and white) and age (junior, intermediate, adult and masters). Whilst there is a winner for each division, a Club Champion was also decided for each colour belt (the winner of each age division plays off). Note: Club Instructors are not allowed to compete in the patterns or be crowned as "Club Champion" (for obvious reasons).
FULL REPORT BELOW
---
POWER BREAKING — ROOF TILES — EXPLAINED
Competition power breaking is tested on terracotta roof tiles — only for black belt students. Sun Bae uses Terracotta tiles because they remain consistent in strength over time, unlike cement tiles which are very easy to break when they are new (and unbreakable when they are old). It is important NOT to try breaking without your instructor. The tiles, once broken, can be quite sharp and can cut the wrists. It can be quite dangerous.
Every year our competitors are faced with a decision upon how many they should stack. Too many and you can lose power. Not enough and you might be left wondering! In addition, the entrant is awarded a bonus tile on their score if they completely break a stack (thus assuming they would have broken one more).
It is always an exciting event, with spectators treated to a great display of traditional martial arts. This year did not disappoint! On the note of tradition, roof tiles were always part of the original black belt testing in the 1960's, 70's and 80's. Sun Bae has continued this tradition late into the 90's whereupon it became very hard to actually find the right roof tiles. Sun Bae now keeps its reserve of tiles just for the Championship.
FULL REPORT BELOW
---
HIGH KICK — JUMPING FRONT KICK— EXPLAINED
The club record is 284 cm. Players compete in seven divisions split into male, female and midgets (girls & boys). The highest kicking is always a crowd pleaser and this year was no exception! You have to see it to believe it!
FULL REPORT BELOW
---
FULL REPORT...
Personal Message from GM Bradley....
I founded the Sun Bae Championship just for Sun Bae members — in design, it is a very traditional style event which focuses on the individual feats of Taekwondo such as Tile Breaking, High Kick as well as the technical performance for patterns. There is no sparring for this reason. It has become of the biggest events in our State now, perhaps even Australia (notably with only our own students).
To make the event exciting and also significant for all members of Sun Bae, there must be teams. I have found team practice and the bonding it entails instrumental in physical performance and mental growth. But also, there must be individual battles, where the player faces their own challenges. This is a valuable experience, not only in the training hall, but outside in life (proven true by the genuine quality of our young black belts).
The poomsae event is not split into tiny divisions, whereas you then find only a few in each division. Some divisions can be up to 30 players each. Winning a medal in poomsae is usually not easy and it is my hope that any medal earned is highly valued by the player (and respected by their peers).
The poomsae event is also a knock out style match up. This means that the great majority of players will eventually experience a loss. This is quite okay. I believe that how we grow in life is determined by winning and also losing. When we lose, it can often be a catalyst to spur on our energies to later achieve greatness. Learning from our mistakes is valuable and how we conduct ourselves in winning and losing shows our character.
I hope you continue to enjoy the journey that Taekwondo can offer. At Sun Bae, you will always receive a traditional teaching style, albeit mixed and enhanced with Kukkiwon's modern innovation of technique. I heartily encourage you to strive every week — the only opponent who matters is yourself.
Sincerely
GM Bradley Tatnell
Sun Bae Korean Martial Arts
Event Sponsor & Patron
Founder & Grandmaster
8 Dan Kukkiwon Taekwondo
Kukkiwon 1st Class Examiner
Team Patterns - Championship Trophy
---
Results & Medals
There were 170 patterns (poomsae) players this year. Most divisions were heavily fielded. Five judges per court made their decisions with some matches tied, requiring the Head Of Court to decide. These close contests can prove the difference and as you will read below, every medal counted in a very close finish.
First & Second Place — Team Kenmore & Team Newmarket
First place was won by Team Kenmore. Second place went to Team Newmarket. The defending champions, Team Newmarket, looked strong from the outset, however Team Kenmore set the pace early with two gold to one in the Black Belt division. Notably, Team Kenmore secured some very important wins in player heavy divisions: Isabel Joseph's gold in the Blue Intermediate with 14 players and Anoushri Chand's gold in the Red III intermediate with 14 players. In contrast, Team Newmarket had an unexpected soft gold in Red III Junior with only entrant!. But you have to be in it to win it! The end result was seven gold each, a tie. The final decision was then based upon silver medals and Team Kenmore had more, but only by one with six silver to five. Team Newmarket, so close, just falling short. Oh what could have been! Congratulations to Team Kenmore on their Championship win and to Team Newmarket on runner-up and to Master Shirly.
Third Place
Team Regents Park are back in the lime light after a dry stretch with four gold medals from only 12 poomsae entrants —securing third place! They narrowly nudged out Middle Park who had three gold. Notably, Middle Park had the same number of silver — interesting — and when we looked closer they had one extra bronze. One more gold would have been enough to tip Team Middle Park into third and onto the podium. It is clear that overall participation and securing secondary medals really do matter. Worthy of note, Middle Park also have a new Yellow Belt Club Champion — Jio Kang — who has been training three to four times per week and competed at the 2023 Gold Coast Open and 2023 Caboolture Open in his lead-up preparation. Not to be outdone, team Regents Park also crowned a new White Belt Club Champion — Dani Ko. Congratulations to Team Regents Park for third place.
Notable Matches
GM Bradley reported that the quality of the Blue Belt Division this year was exceptional, including a very advanced display of kicking prowess. It was Isabel Joseph from Team Kenmore who emerged from the Intermediate pack of 14 players to eventually win through all the way to Club Champion. In fact, Isabel confronted her sister — Leah Joseph — in the final. In another family feud, Hannah Yang and younger brother Sam Yang of Team Kenmore battled it out in the Black Belt Championship final with Hannah narrowly taking the crown (it's actually an embroidered belt). We can only assume all parents must be very proud! And speaking of parents, it was heart warming to see Jung Kang (father of Yellow Belt Club Champion) of Team Middle Park secure his bronze medal in Yellow Belt Masters. Team Middle Park yellow belt Jio Kang battled it out in the largest division of 25 players to finally win gold, after 5 rounds. Jio then went on to secure the Club Championship! Another proud parent is gold medallist and runner up Club Champion Brooke Pallister of Team Regents Park, whose daughter silver medallist Elizabeth Lambert won 4 matches to make the division final in Yellow Belt Junior (the largest division with 25 players). it seems families training together at Sun Bae are doing well!
Last year's Blue Belt Club Champion from Team Toowoomba — Midori Mihara — went back to back securing the Red Belt Club Champion! Can she do it again? It is notable that even though Midori is from Toowoomba, she is seen here and there at the Brisbane centres training to her heart's content. See you next year Midori — train hard!
Little (very little) Dani Ko aged 7 from team Regents Park reared up to take out everyone — all very much bigger than her — and is our new White Belt Club Champion! She performed her poomsae with a natural balance and with advanced control of her speed and flow. Her mental strength was obvious. Sun Bae has not ever seen such a young champion actually! She also showed advanced ettiquite when receiving her awards personally from GM Bradley — a great example to other students.
Club Champions
We congratulate the champions in each division. It is usually a long road just to get to the finals and once there, it is two more matches. Club Champions must be prepared for the physical endurance as well as the mental strength required to get to the end. Serious training is recommended in preparation. the Champions are:
Black Hannah Yang (Kenmore) [CLUB CHAMPION]
Red III Keerthana Kasturi Rangan (Kenmore)
Red Midori Mihara (Toowoomba)
Blue Isabel Joseph (Kenmore)
Yellow Jio Kang (Middle Park)
White Dani Ko (Regents Park)
Results (links)
---
Team Patterns - Players Trophy
---
Results & Medals
The Players Trophy was amended this year to include all events: patterns, high kick and tile break. The winner this year, with a team of 13 players and a result of 61.54% was Team Regents park. Only one more medal was required by Team Newmarket and Team The Gap to take them down.
After the patterns, Regents Park was narrowly in the lead three medal clear. This dwindled in an exciting high kick and tile break performance by all, but they held. Congratulations to Team Regents Park, Master Mark their first Players win!
Results (links)
High Kicking
---
Results & Medals
The club record of 284 cm was not challenged terribly this year, but a surprising result emerged in the men's division under 176 cm tall. It was Team The Gap black belt Roman Castiglione who wooed the crowd finally finishing at 260 cm and a new record for his division! The highest kick on the day was 265 cm — not insignificant — by yellow belt Damanald Diosi from Team Toowoomba!
The Sun Bae highest kick record of 284 cm set by Michael Mills remains intact. Considering it to be somewhat close to the world record, it is likely to stay where it is. For students wishing to kick higher, please concentrate on your front splits ability and set a strong work-out program three months out from the event and don't eat lunch just before you jump (and maybe cut your hair).
Results (links)
---
ACTION VIDEO
Sun Bae 2023 High Kick Champion - 265 cm - Damanald Diosi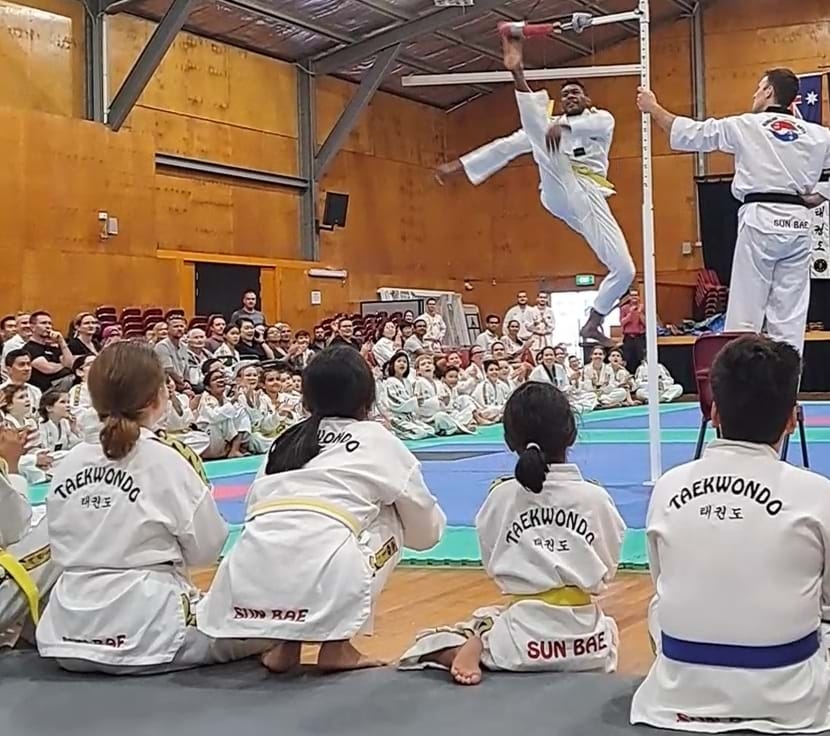 Power Breaking
---
Results & Medals
The tile breaking did not disappoint It never does. The tiles used are all terracotta roofing tiles and only black belts are permitted to enter — due to the inherent danger of breaking. Instructor Nicole Vickery (Team The Gap) demolished seven tiles this year to win gold in the ladies division. This was almost enough to win the male division until Master Mark set the record straight with a ten tile destruction! Instructor John Handyside (team Toowoomba) and Andrew Shoebridge (Team The Gap) took down six tiles each to win silver and bronze in the men's.
Master Mark Buxton (Team Regents Park) added something special again this year. His age group is 50 plus now and it was a joy to watch another masterful display of power and concentration treating the arena to a continuous four station breaking display totalling 37 tiles. He only missed one!
Results (links)
Thank You...
---
Masters: Mark, Shirly,
Instructors: Ben, Nicole, John, and Brendan.
Assistants & Black Belts: Chris, Steph, Tabitha, Hannah, Sam, Andrew, Jenny, Johannah, Roman, Anunt and Erika.
Trainees: Greg and Nathan.
Venue: Instructor Ben and Mount Gravatt State High School!
Head of set-up: Instructors Ben and Nicole, Master Shirly.
Food stall: Master Shirly and Shirly's little helpers.
Photos: Thanks to all for contributing.
Tiles supplier: Master Mark
Many thanks to all parents family and friends who have supported the event!
Photo Gallery
Photos supplied by Instructors, students and parents... thank you!