About Sun Bae - Martial Arts School
Learn Taekwondo at One of Our Leading Martial Arts Centres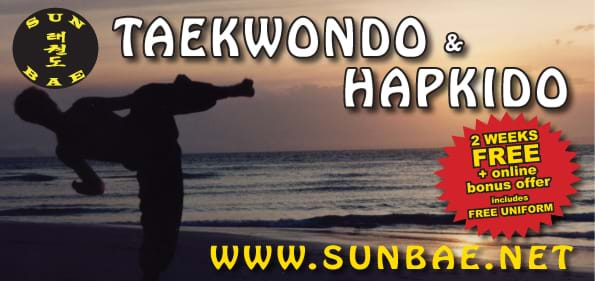 Some Quick Links...
---
What is Sun Bae?
Sun Bae is a Korean Martial Art of Taekwondo, Hapkido and Kumdo. Centres are located across Brisbane, in Toowoomba and in Melbourne (Australia). Sun Bae was founded by Master Instructor Bradley Tatnell, who has been teaching since 1983. Sun Bae offers a unique style, with the normal classes combining the ancient Korean Arts of Taekwondo and Hapkido. Kumdo classes are held separately. Sun Bae focuses on self defence, yet incorporates the excitement of the modern day Olympic style. Men, women and children from ages 4 to 55+ make up the broad range of Sun Bae students, attending their local centres with separate classes for Cubs, Tigers and Adults. Sun Bae is a member of the World Taekwondo Federation and the Korea Hapkido Federation and the Australian Kumdo Society. All black belts receive an international Kukkiwon certificate, recognised world-wide.
---
What are Taekwondo, Hapkido & Kumdo?
Korean Martial Arts originated over 2000 years ago as a form of unarmed combat and was first practiced by the military in the event of invasion from neighbouring countries. Today, Taekwondo and Hapkido have been refined to an effective form of self defence utilising hand and foot combinations to evade or unsettle any attacker. Taekwondo is well known for its powerful kicking techniques whilst Hapkido is well known for its close hand techniques, including throws, joint locks, holds and ground pinning. They remain traditional martial arts, and Taekwondo has now also evolved into an Olympic sport. Kumdo is the art of fighting with sword. At Sun Bae, Kumdo includes sparring with protective gear as well as live cutting of bamboo and matting.
MORE ABOUT TAEKWONDO AT SUN BAE
---
Will Sun Bae Suit Me?
Previous experience, fitness or flexibility are not required. Sun Bae classes are designed for men, women and children of all ages. There are separate classes for children and adults as well as mixed classes. Sun Bae is a club. Classes are social, enjoyable and you can train at your own pace. Sun Bae is ideal for children, couples and families. Techniques are easy to learn and there is no end to the learning...
---
How Will I Benefit?
Physically:

Mentally:

Taekwondo & Hapkido skills
Aerobic fitness & self defence
Body tone & strength
Good health & stress release
Co-ordination and flexibility
Excel in other sports

Street safe awareness
Concentration & control
Courtesy & respect
Discipline
Confidence & perseverance
Academic improvement
Who Will Teach Me?
Sun Bae's Master Instructor, Bradley Tatnell, offers many valuable years of martial arts experience specialising in Taekwondo, Hapkido and self defence (teaching since 1983), as well as Kumdo. Master Bradley personally trains all Sun Bae Instructors ensuring you, as a student, receive the highest level of teaching quality and the latest in new techniques. All Sun Bae Instructors are highly trained black belts with a long history of training. All Instructors are personally approved by Master Bradley and have successfully completed the appropriate Sun Bae in-house coaching programs. Sun Bae instructors credentials include:
Sun Bae Black Belt.
Sun Bae Coach (Level 1).
Member of the World Taekwondo Federation or "Kukkiwon":
- recognised by the Australian Government.
- r

ecognised by the International Olympic Committee.

Member of The Korea Hapkdio Federation & Hapkido Moohak Kwan (Australia).
Registered "Blue Card" (child check).
---
What is the World Taekwondo Federation or WTF and Kukkiwon?
The progress of Taekwondo is regulated by the World Taekwondo Federation (WTF) from South Korea. WTF has membership of over 150 countries with over 50 million students. WTF is the only Taekwondo body officially recognised by the Olympics and the Australian government. The Kukkiwon (part of WTF) is the only body able to issue Taekwondo black belt certificates. Grading Examiners must be licensed by the Kukkiwon in order to grade any student. Kukkiwon certificates are recognised and, of course, accepted world wide by all WTF clubs.
---
Olympics & Championships?
Taekwondo appeared in the 1988 and 1992 Olympics as a demonstration sport. Sydney 2000 marks the commencement of Taekwondo as a full Olympic sport. Only WTF students may compete as WTF is the only Taekwondo body recognised by the Olympic Committee. All Sun Bae students are eligible for Local, State, National and even Olympic selection. There are additional competitions for ages 6 to 17 years and for over 35 years old. All tournaments make use of protective equipment and strict rules. Because of this, Olympic sparring does not wholly represent the fighting style of Taekwondo. Perhaps 5-10% only of Taekwondo is usable in the competitions, mainly to avoid injury. For example, there is no grabbing, low kicking, throws, ground fighting or even punching to the face in competition. At Sun Bae, classes focus on self defence, not competition.
TAEKWONDO: OLYMPICS & CHAMPIONSHIPS
---
Children's Classes (Cubs & Tigers)
Sun Bae has classes for children from age 4-5 (Cubs) and from age 5-11 (Tigers). Sun Bae classes introduce children to basic self defence training including stranger danger and street safe awareness, as well as Taekwondo and Hapkido skills. Classes are designed to be enjoyable, but are taught with discipline and a subtle style of strictness. Sun Bae develops each child's integrity and character by encouraging confidence, courage, perseverance, courtesy and respect - not only inside but also outside the training hall. Class times for children vary at each centre and usually commence at either 5:00, 5.30 or 6:00pm. Sun Bae classes operate throughout the school holidays as well. In addition, as an alternative choice, it is possible for children to attend our evening or mixed classes (for adults) which normally commence at 6:00, 6:30 & 7:00pm. This allows families to train together. Children also will be able to participate in Sun Bae's sword sparring classes. They wear protective equipment and use a soft foam sword. There are no grading for this style class, just a chance to enjoy the art of sword fighting. Its great for health and fitness and also for their developing strength.
---
Adult Classes
Sun Bae adult classes are for both men and women from ages 12 to 55+. Classes are typically different every lesson and include aerobic warm-up exercises, Taekwondo specific stretching, balance exercises, co-ordination exercises and the art of Taekwondo & Hapkido. You can progress at your own pace. No previous experience, fitness, or flexibility is necessary. Classes are great for friends, families and couples.
---
Advanced Classes
Advanced classes are conducted by the Master Instructor including advanced Taekwondo, Hapkido, Kumdo and weaponry. There are regular Taekwondo, Hapkido & Kumdo gradings. An Instructor's course is also available.
---
Sun Bae Etiquette or Code of Conduct?
Sun Bae is a traditional martial art. Our students learn the "how to", but at the same time, they also learn the "when" and the "why". It is very important to us that the techniques learned at Sun Bae are not misused and Sun Bae students strive to better themselves, in and out of the training hall. To find our more about the Sun Bae Etiquette (Rules & Regulations), you can download our Student Handbook.
---
Common Questions
You have some questions?
---
Can I please have a Free Tryout?
Yes! Of course! All beginners are welcome any time of the year. And if you have some prior martial arts experience, let the Instructor know, you will find Taekwondo easy to learn. We always have some FREE TRYOUT OFFERS, just have a look HERE. Attend any Sun Bae centre during your FREE tryout. And don't forget, you will receive a FREE UNIFORM upon joining! Also, all Sun Bae gradings for coloured belt level in Taekwondo and Hapkido are FREE!
REGISTER FOR MY FREE TRYOUT SUN BAE CENTRE LOCATIONS